Upcoming Sales
| | | |
| --- | --- | --- |
| | Be the first to hear when new sales are scheduled. | |

Ivan McDougal Watercolor Art Exhibit and Sale

Opening Reception: Thursday, October 8, 5:00pm to 8:00pm
Exhibit: October 9 through November 15

The Estate Sale Gallery at Los Patios
2015 NE loop 410, San Antonio
Open Wednesday – Sunday, 11:00am – 4:00pm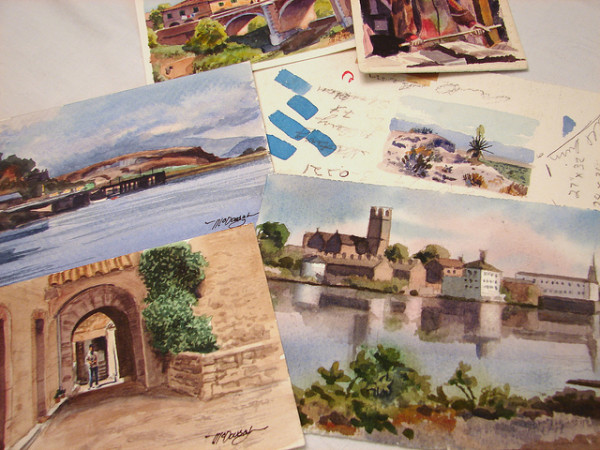 Additional details and photos will be posted here before each sale.  Please be aware that occasionally an item pictured will be removed from the sale by our clients prior to opening day. 
We accept cash, check with valid photo ID, credit and debit cards.

ONE DAY ONLY!
Autumn Sale in the Garden Room
Saturday, October 10
11:00am – 4:00pm
Special "Pop-Up Sale" in the Garden Room at Los Patios.  Special Sneak Preview and advance shopping opportunity on Thursday, October 8, during the Ivan McDougal Watercolor Reception.
This one-day sale will feature a large collection of primitive kitchen tools, a Hoosier cabinet, pie safe, copper cauldrons, bowls, and kettles, sewing items, older cookbooks, a vintage mixer and several electric toasters, wooden bowls, tole trays, haughty roosters, and brightly-colored ceramics, including the tomato design.
Furniture and accessories from various estates will be at deep discounted bargain prices. Find white painted shabby chic, wicker, rustic, a comfy moss-color sofa, chairs, tables, chests, desks, baskets, casual dinnerware, and much  more.

Grand Finale:
The Estate of Dollie Cole
Already known as "The Ranch Estate Sale of the Century," this massive Lockhart event will be offered in four weekend sales, with different merchandise featured each time. Socialite Dollie A. Cole was the wife of Edward N. Cole, former President of General Motors Corporation. She traveled the world and collected treasures in her extensive Texas ranch home.
Lance Avery Morgan published a sneak peak of this amazing estate sale event in The Society Diaries. You won't want to miss out, so mark your calendars now!
                          Briarpatch Ranch, Lockhart/Mendoza TX 78644
                 
                          Oct. 16-17-18 – Sale #3, 10am — 5pm 
                          Oct. 30-31, Nov. 1 – Sale #4, 10am — 5pm
               DETAILS AND PHOTOS FOR THE NEXT SALE WILL BE POSTED SOON!
Driving tip: To avoid paying a toll, take Highway 183 , which runs parallel and directly next to toll road 130.  Look for the Briarpatch Ranch exit sign, posted along 130.
This beautiful ranch has been the setting for several popular television shows, and this fall it will be the site of a spectacular series of estate sales. The property includes a large home and several outbuildings — all filled with top-quality, unique treasures. In our area, an estate like comes onto the market perhaps once a decade — if we're lucky!
Safety and planning notes for the Ranch Estate Sale:  
 On opening day, Friday, there will be a $10 per person donation collected at the gate, CASH ONLY!  No $100 bills, please.  The donations will go to The Settlement Home for Children, The 100 Club of Central Texas, and other charities supported by the Cole family.  There is no entrance fee on Saturday and Sunday.

For payment of merchandise, we accept cash and checks with valid photo id. Debit and credit cards will be accepted only for purchases totaling more than $50.00.  To be on the safe side, bring extra cash or your checkbook.

 

Walking shoes are a must!  Shoppers should be prepared to walk quite a bit over uneven and possibly wet ground.  
Hats and sunscreen recommended.
There will be porta-potties. No ATMs on site — the nearest one is 10 miles away.
Entrance will be limited to prevent overcrowding.  Be prepared for a short wait to enter.  Tables and chairs will be provided outside the entrance.
There are no ramps for wheelchair or scooter access on this private property. Much of the route from the parking area to the house, and all around the grounds, is over rough, unpaved fields. Accessibility is very limited.
No smoking permitted anywhere on the property — including outdoors — due to extremely dry conditions! Smokers will be escorted off the property.
No children under 12 admitted. The property is unsafe for small children.
No pets!  No exceptions!
For your safety, please follow all instructions from the 24-hour security team.
The Cole family reserves the right to exclude some items from the sale. Please check estatesales.net for last minute photo updates Friday morning before you leave for the sale. Items sold Friday and Saturday will be indicated on photo updates to help you plan your Sunday visit.  We'll do our best to screen each photo, but one or two items might slip by.

Visit the The Estate Sale Gallery
 at Los Patios to find carefully curated, fresh-to-market estate treasures.  New inventory is arriving weekly!